How Do Employee Background Checks Help The Staffing Industry?
September 11, 2023
Posted by:

Netrika

Category:

Background Check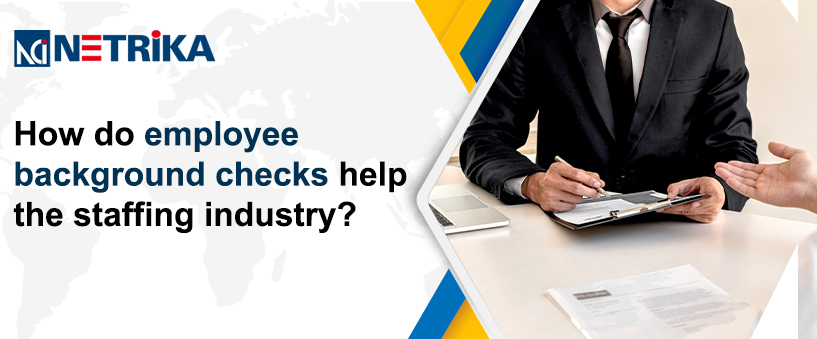 In today's fast-paced, ever-changing workforce, it's more necessary than ever to expect the unexpected—anticipating potential problems can help take some of the uncertainty out of hiring. Employee background checks are an excellent approach to gaining a deeper understanding of your applicants, which is especially crucial when managing your staffing business. A variety of information can be verified and reported via background checks. As a staffing firm, you work with various clients, each with a set of wants, objectives and recruiting procedures that must be met and followed.
As a staffing firm, you have the unique role of finding, vetting and recommending short-term and long-term individuals for positions within various firms.
While a candidate must do their part in presenting their qualifications and experience, conducting a background check on possible employees assists you in determining the ideal candidate for the job. This leads to effective placements and delighted employers, earning you a positive reputation as a dependable staffing partner.
Types of employee background checks in the staffing industry
●       Criminal Background Check – Criminal background checks ensure you are not hiring someone who could endanger your employees, business or customers.
● Employment Verification – Verifying an applicant's employment history will confirm their relevant experience and point out any anomalies.
● Education Verification – Specific certificates or degrees may be required by some clients. Confirming an applicant's educational background guarantees they have the relevant knowledge for the post.
● Driving Record – A driving record check is required if the employee runs business vehicles. This check will determine that the candidate holds a valid driving license.
● Drug Testing – If your client's job entails operating heavy gear or equipment, drug testing is essential for workplace safety. Drug testing can assist in reducing drug usage expenditures while keeping your clients and office premises safe.
How do extensive background checks help the staffing industry maintain its business?
Your success as a staffing agency depends on rapidly discovering and placing qualified individuals. A credentialed background screening partner will significantly improve your chances of success. Extensive background checks determine how quickly, accurately and compliantly you can onboard new candidates. Conducting a background check to assess applicants aids in choosing the best candidate for the job and leads to more successful placements, which results in happier clients.
Furthermore, some of the most critical aspects of how employee background checks aid the staffing industry in increasing its business and reputation are as follows.
● Keeps your business out of legal problems: If the staffing agency hires a worker who later proves unsuited for the job, one could hold you accountable for a breach of contract. If you hire someone who turns out to be a threat to the client or its employees, your company could face a negligent hiring lawsuit. Conducting a criminal and drug background check to uncover any prior criminal behaviour or substance misuse helps to limit such dangers.
● It boosts company growth: Not only will your staffing business gain client trust and loyalty, but the more your reputation as a quality employment agency improves, the more likely you will gain new clients.
● Safeguards your brand: The employees you place on-site for clients directly reflect your staffing agency's brand. Consider sending a candidate out on a job only to discover that they lied about their skills, experience, or professional past or end up being a liability. This puts your client at risk and reflects negatively on your entire reputation and may permanently damage your brand.
●       Gives your business a competitive edge: A thorough background check can set you apart from other staffing firms. Your background checks can be a selling feature to differentiate yourself from other employment agencies.
● Fosters trust and strengthens loyalty: When you undertake extensive background checks on employees, your clients know they can trust these people and, by extension, your organisation. If an employee is found unsuitable for work, your company may find itself at the heart of a costly negligent hiring claim. But when your clients know they can rely on you to send them skilled, credible individuals, they will return to your staffing agency time and time again.
● Speeds up employee screening by leveraging a digital approach: The staffing industry transforms its practices as the employee background screening approach evolves in the technologically disruptive world. Staffing organisations conduct screenings faster and provide a better overall experience for their applicants using mobile employee background screening.
●       Improves business integrity and safety: In business, integrity is everything. And, because many staffing firms are mandated to screen their end-users, background checks are crucial to ensuring that applicants are qualified and capable of doing a job safely in your company. Background screening provides a minimum level of due diligence that limits the risk of employee-related fraud or theft while promoting worksite safety—hence the importance of completing employee background checks for staffing.
What can the proper background screening partner do for you?
During the employment process, staffing agencies frequently act as gatekeepers for employers. With a range of responsibilities, conducting a comprehensive human resources background check has become the distinguishing feature of high-quality staffing agencies.
The industry must have fair recruiting practices and send out honest and competent employees. Netrika Consulting can design unique screening solutions to fit your client's needs regardless of the specifications. We provide a comprehensive range of cutting-edge screening services, including criminal records, verifications, drug tests and overseas screening.
Our industry-leading technology automates a difficult screening process, and expert specialists work with you to understand your business needs and provide the assistance you require to reach your hiring objectives. We can also assist you in sorting through the results of our pre-employment screening programme to identify which details are appropriate and legal to exclude an applicant from consideration.