The importance of Due Diligence for Business
July 26, 2021
Posted by:

Netrika

Category:

Due Diligence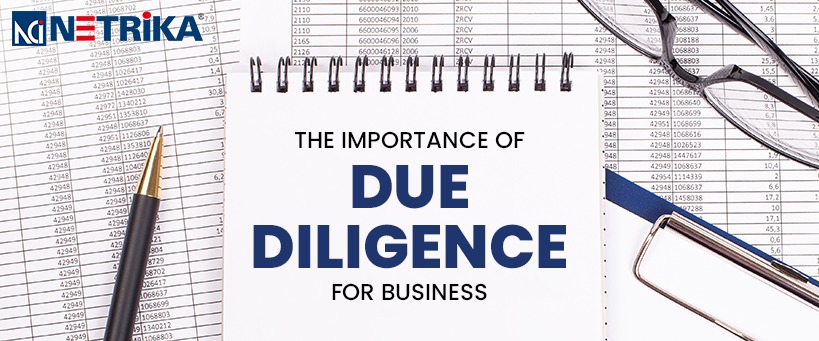 No organisation in the business environment can claim to independently function. Almost to the tune of 30% of business activities are outsourced to vendors/third parties to remain cost-effective/ cost-efficient. Without the support of third parties/vendors, the survival of businesses is questionable. But to associate with the third parties/vendors to help you, we need to ascertain certain things like financial capabilities, business capabilities, criminal background, reputation in the market, etc. To do this, the only way is to get the vendor/third party vetted i.e., through Corporate Due Diligence/Vendor Due Diligence.
There are three levels of due diligence procedures that organisations can use based on the level of risk a potential customer present.
Simplified Corporate Due Diligence
The lowest level of due diligence
Most appropriate in situations where there is little opportunity or risk of customers engaging in illegal activity
The only requirement is to identify the customer
Standard Corporate Due Diligence
Most widely used in situations where the customer presents a risk (i.e., there is some opportunity for the customer to engage in illegal activity), but it is unlikely that the risk will manifest
Involves identifying the customer and verifying their identity
Enhanced Corporate Due Diligence
Used when customers present higher risks for engaging in illegal activity
Triggered by factors such as high-profile customers, large value transactions, or foreign business dealings in countries known for corruption
Under enhanced due diligence procedures, the following customer elements should be examined with a greater level of scrutiny:
Identity (i.e., is the customer whom they claim to be?)
Source of income and overall net worth (i.e., can the customer pay for the transaction, especially if they are requesting to pay on credit?)
Expected pattern of purchasing (i.e., is this a one-time transaction or a series of transactions?)
Expected value (i.e., how large is the cumulative financial risk?)
Expected method of payment (i.e., is the customer requesting to use a higher-risk payment method, such as a personal check or line of credit?)
Vendor due diligence
The management should conduct proper due diligence while seeking association with new vendors or evaluating the relationship of existing vendors to prevent and detect misconduct.
Effective practices should follow when developing a vendor due diligence program include:
Using third-party questionnaires
Before entering a relationship with a new vendor, management should seek to obtain information from the vendor by using a questionnaire.
Questionnaires provide background information about the vendor that can be cross-referenced during a background check.
Assessing vendor commitment to compliance and ethics involves the following due diligence procedures:
Ensure that vendors have their ethics and compliance program before engaging in any transactions.
Provide the vendor with the organisation's code of conduct and require the vendor's agents to sign and agree to abide by the code.
Inquire about the vendor's internal audit department and the types of audits the vendor is subject to.
Include contract clauses that require vendors to report any misconduct.
Alert the vendor that they will be liable for any unethical conduct that occurs in doing business with the organisation.
There is simply no substitute for due diligence to understand a firm and its operations before acquiring it. Due diligence is a process to review or audit a company, undertaken before a merger or acquisition. The process verifies, investigates, or audits a potential deal or investment opportunity and confirm all the relevant facts and financial information during the deal.
Please note there are many companies in the marketplace offering this service and Netrika is one among them. Know more