What is the difference between CRM, ARM, RF and RIMS-CRMP?
July 1, 2021
Posted by:

Netrika

Category:

Training and Certification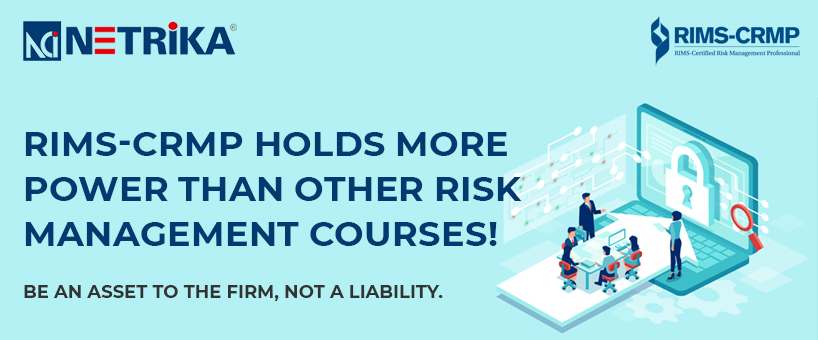 There is no industry where one does not fear the risk. Risks are always rapidly increasing as businesses traditionally worry about economic or market uncertainty, regulatory compliance, supply chain, and property. Besides these common worries, the businesses now have more things to worry about, like cyber risk, geopolitical relations, health care, and more so to keep the business safe from fraudsters around the world. And there comes the job of risk managers, who have never been more in-demand to mitigate the risks in the business.
Being a certified risk manager sure adds up to the designation of a professional. Earning the RIMS-CRMP certificate makes the risk professional a recognised expert and leader in the risk management discipline, and an asset to the organisation, keeping up with the competitors in the economy.
The certificate distinguishes its holder from peers, demonstrating a high level of knowledge and experience. However, why would one specifically choose RIMS-CRMP and not other courses like CRM, ARM, or RF to elevate their status in the risk professional industry? While current and aspiring risk professionals have many other options to expand their professional knowledge and climb the ladder of success. Popular credentials include Associate in Risk Management (ARM), Certified Risk Manager(CRM), RIMS Fellow (RF).
Meanwhile, RIMS-CRMP still tops the list. Earning designations like ARM, CRM, or RF means that the risk professional is willing to take a step further to be a proficient risk professional and mitigate threats by demonstrating the knowledge gained so far with continuous education. The certifications add value to a risk manager's career portraying that the professional is all set to level up the knowledge. Meanwhile, RIMS-CRMP has a slightly higher value than others. The RIMS-CRMP requires a broader level of knowledge than a designation.
 The professional certification requires:
Demonstrated body of knowledge, by passing exam(s).
A specific level of experience (practicum) for eligibility.
Continuing education.
Adherence to a code of conduct.
The RIMS-CRMP examination covers 5 topic areas deemed fundamental knowledge for a proficient risk manager. These include analysing business models, designing organizational risk strategies, implementing risk processes, developing organizational risk competencies, and supporting decision-making. These topics talk about the role of a risk manager and how the risk management industry has evolved so far. The certificate is accredited by the American National Standard Institute. The RIMS-CRMP is the only risk management certification in the world to hold this accredited status. Unlike other professional credentials, the RIMS-CRMP does not require candidates to pass prerequisite courses.
Therefore, RIMS-CRMP holds more power than other risk management courses. Know more