Top 10 Ways To Minimise Whistle-Blower Retaliation
June 28, 2023
Posted by:

Netrika

Category:

Forensics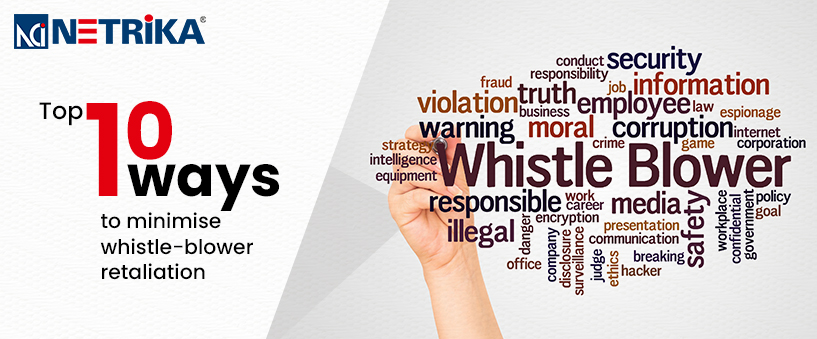 Businesses thrive when they welcome honesty and are open to feedback, where employees can speak up against the wrongdoings and help identify the root cause of the issues and mend them. However, too often, the employees who raise their voices against misconduct are punished for their honesty. This is a harsh truth that deters most employees from becoming whistle-blowers for the growth of an organisation.
The act of whistle-blower retaliation comes wrapped in many forms. Some retaliations are obvious and direct, like employment termination or demotions. Others could be indirect, such as negative performance evaluation, marginalisation, impromptu shift change notice, stripping the whistle-blower of their responsibilities, department change or demeaning tasks. The indirect form of whistle-blower retaliation often takes the shape of workplace harassment to the extent that either the employee quits their job or loses trust in the organisation entirely to ever act in the interest of the company. This further has a massive impact on the workforce of the organisation, who disengage themselves from the act of wisdom in the organisation's interest.
Contradicting the "No good deed goes unnoticed" quote, the statistics presented by NAVEX's 2022 Risk & Compliance Hotline & Incident Management Benchmark Report highlight that approximately 24% of whistleblowers experience some form of retaliation in the workplace, including harassment, demotion, or termination. These come from their co-workers, supervisors, managers and sometimes company owners.
The situation represents the violation of equal workplace opportunity and perseverance toward ending misconduct and mishappenings. Blowing a whistle against workplace misconduct is the fundamental right of every employee, and its adoption needs to be celebrated with integrity.
To back this notion, we have curated a list of steps to minimise whistle-blower retaliation at the workplace and imbue good faith in whistle-blowers, presenting them as assets.
The tools to power whistle-blower strength and minimise retaliation
1. Conduct focus groups & surveys
Organisations must develop an understanding and lead perspicaciously toward the workforce's beliefs about whistleblowing and the risks attached to retaliation through focus groups and surveys as a channelled way to minimise retaliation. Your response team can design a questionnaire to expose the organisation's structural integrity and if and why the employees bypass internal compliance channels.
2. Conduct whistle-blower-specific training for managers
In the organisation, a substantial amount of whistle-blower complaints are made to the managers directly in the hope of confidentiality and trust. However, the manager's response might vary and become a cause of risk to the whistle-blower. Organisations must draw the need for manager training specific to whistle-blower protection, policies and responsible behaviour to minimise retaliation.
3. Break down business divisions to ensure the HR, employment counsel and compliance work in conjunction
Whistle-blower claims and complaints are often a subject of retaliation, such as employment implications, performance evaluation response, disciplinary actions, compliance issues etc. To avert its occurrence and ensure the employee interest is protected while they become whistle-blowers, HR, legal (employment counsel), and compliance functions should work together. This will ensure a comprehensive approach to the whistle-blower response process and keep them fully informed of its counteracts.
4. Appoint a liaison promptly to the whistle-blower
Most whistle-blowers find their safe resort in an attorney or the government when the witness is ostracised, isolated and a victim of retaliation. This act could be extremely dilapidating for the organisation and could become a public mockery for its management. However, the company's management can prevent this by the prompt intervention of appointing a corporate representative to serve the job of a liaison with the whistle-blower.
5. Promptly conduct an investigation
Acuteness is crucial to a successful investigation of the reported misconduct so that the employees develop a robust response system to conduct prompt investigation shortly after the report is lodged. Moreover, whistle-blowers are advised on what information remains confidential and how the organisation would proceed with the investigation results to the extent possible.
6. Oversee the whistle-blower evaluations with a strong emphasis on objective metrics
Undergoing the zero-retribution of whistle-blowers in the organisation, the supervisor or HR and those aware of the complaints must review the performance evaluation of whistle-blowers using gauging tools that quantify performance in a more traditional approach.
7. Reward the good-faith whistle-blowers
Organisations highlight rewarding as the essence of every good step taken for the interest of the organisation. The management can consider offering monetary or other benefits to the whistle-blowers. This can also include a letter of commendation from the management, worthy words of praise or even a bonus.
8. Make sure investigations are conducted impartially
Instead of the management, entrust inquiries to an unbiased or independent authority. In certain instances, supervisors could be more concerned with identifying the whistleblower than with fixing the issue he or she brought up.
9. Dedicate an annual "Ethics & Compliance Day"
While not necessary, you can begin dedicating one day each year to focus on the need for accountability, transparency and lawful and ethical conduct of employees. The occasion can also invite external speakers with expertise in code of conduct, ethics, anti-retaliation policies and whistle-blower protection.
10. Implement a Hotline
You must create a safe work environment for the employees to work towards organisational success. Therefore, your anti-retaliation process for whistle-blowers can include an anonymous hotline that is easily accessible to your employees. This avenue must be a safe spot to report the complaint while feeling secure about non-disclosure and confidentiality.
Businesses greatly benefit from whistleblowers, but all too frequently, the courage to speak up leads to retaliation that harms a person's job, way of life, and mental health. Progressive, protective legislation is finally impacting some regions of the world, but most of the world continues to operate under a patchwork of obscure laws that do nothing to stop reprisal.
Whistle-blower protection is a crucial part of a workplace and adopting a streamlined approach from organisations. To assist in the process and offer the underlying policies and requirements, Netrika assists organisations in establishing a whistle-blower hotline, monitoring complaint receipts, vetting complaints, conducting additional investigations and reporting. Netrika's whistle-blower service is an anonymous, impartial, digital and fully integrated service that can assist employers in lowering the costs and dangers associated with workplace misbehaviour.
They give firms insight into identifying misconduct through their comprehensive digital whistleblowing solution. With a dedicated service sensitising whistle-blower protection, Netrika empowers and generates awareness for both a professional and the organisation to impede potential risks of the victims and the bearers of change.