Three Days Investigative Interviewing Techniques for the Corporate
June 8, 2020
Posted by:

Netrika

Category:

Investigations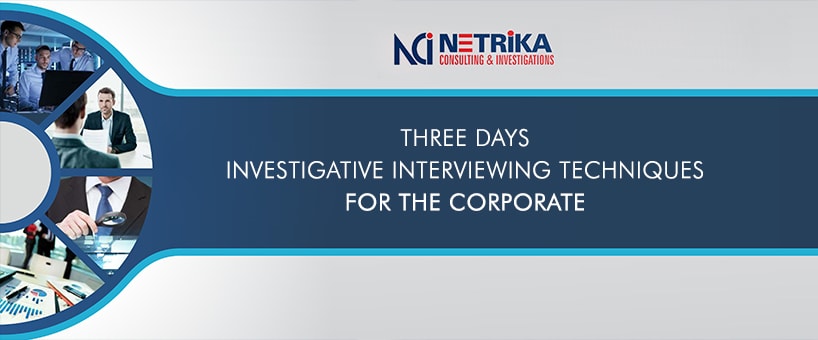 Failures to deliver professional monitoring standards resulted from poor knowledge, limited skills and inadequate training, rather than any personal shortcomings of employees.
Criminal/ Unacceptable/ Anti- social or Fraudulent behavior detection is one of the prime objectives in all corporates. One of the most important tools for successful detection and investigation is the effective interviewing of victims, witnesses and suspects.
This is where Investigative Interviewing Techniques Training stands tall and supportive. It is a process of bridging gaps in the available evidence, interviewing is a process of eliciting the facts as known to the target employee in order to help the authorities decide.
Yes, these are the Chief security heads, chief investigation officers, fraud investigators, loss prevention team, internal auditors, fraud control unit, investigators, security professionals, human resource team, employee relation professionals, auditors, heads of ethic & compliance, CFOS, and all this strata is definitely at the most well earning designations and still they get immensely benefited by this training, because till now they are definitely contributing to the progress of the company, now it's time for all to take a deep insight on security issues as well, benefit the organization and repair the issue….definitely paying back the organization in terms of loyalty.
Now we know that it is a course under the umbrella of CIISCM and post which we are certified by CIISCM equipped with required knowledge and the approach to bridge the gaps with the available evidence…..We as responsible management should take the initiative of gaining insight on  Interviewing skills, Vocal and Non-Vocal Signs,  denials, confessions & admissions, and much more, candidates who attend this training should not only be in the senior management with an extremely impressive service record but also middle management position holders in any corporate. As we say, learnt early is well learnt and manifested well….
Investigative Interviewing Technique Training @ Netrika is the exclusive offering with intent to contribute towards Fraud and Crime detection incorporates. The aim is to slowly and in detail train all senior management in every corporate and eradicate the idea of escaping after committing fraud and crime in corporates.
Be trained to protect.