Last Chance For CFE Delegates To Make The Best of Three Attempts Benefit
July 1, 2021
Posted by:

Netrika

Category:

Training and Certification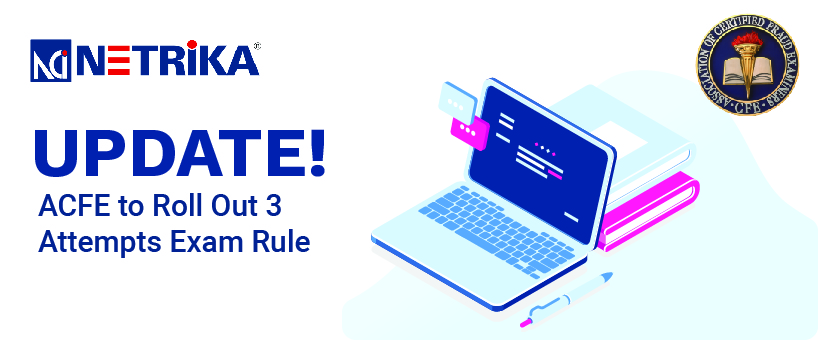 Clearing the Certified Fraud Examiners exam has never been a cakewalk with its four core disciplines like Fraud Prevention and Deterrence, Financial Transactions and Fraud Schemes, Investigation, and Law. Delegates work hard on getting their hands on experience in these subjects and clear the exams to attain the CFE designation after their names.
With the constantly evolving anti-fraud industry, every organisation necessitates at least one CFE on board. The training for CFE Certificate, from Netrika Consulting India, will assist the delegates to prevent and detect frauds in organisations, spanning all industries and sectors around the world with the intelligence gained from the expert and experienced CFE trainers.
CFE exam delegates will not be able to sit for more than one attempt for each subject soon, and that makes all the difference as they used to get 3 attempts for each subject. therefore, after the implementation of new rules, the benefit of free exam retakes will be taken away, leaving them with only one chance.
The Association of Certified Fraud Examiners (ACFE) authorised trainers of Netrika Consulting India will train and guide the delegates to make the best of the current situation and grab the opportunity for as long as it is available to them.
Under the CFE course, provided by Netrika, the delegates get:
– Online course material
– Flashcard App
– 1-year associate membership
– CFE Examination link (valid for 30 days)
– 3 attempts with no extra charges (Valid for 30 days)
– 20 hours CPE certificate
– 32 hours dedicated training on core subjects (One /day for each subject)
– Dedicated trainers' assistance
– Complete administrative support
– Instructor-led classes
The CFE designation is acknowledged globally and is preferred by employers. The certificate holder immediately gets on the top of the profession by standing out in the crowd. Besides, the certificate makes a great impression on a company's bottom line as CFEs tend to discover frauds 30% faster than non-CFEs. Merely having the certification in your hand, can increase your earnings by 34% according to the 2020 Compensation Guide for Anti – Fraud Professionals globally.
Netrika Consulting India Pvt Ltd is the only authorised trainers in India for ACFE Review course. Accredited by the Association of Certified Fraud Examiner (ACFE), Netrika' s CFE authorised trainers will train the delegates before the new rule comes into action, after July 11 and the delegates will have to clear the CFE exam in a single attempt for each subject. Any subsequent attempt post 11 July 21 will entail all candidates to pay for each attempt. Know more