Facing Counterfeiting? Brand Protection Companies On Rescue!
August 19, 2021
Posted by:

Netrika

Category:

Brand Protection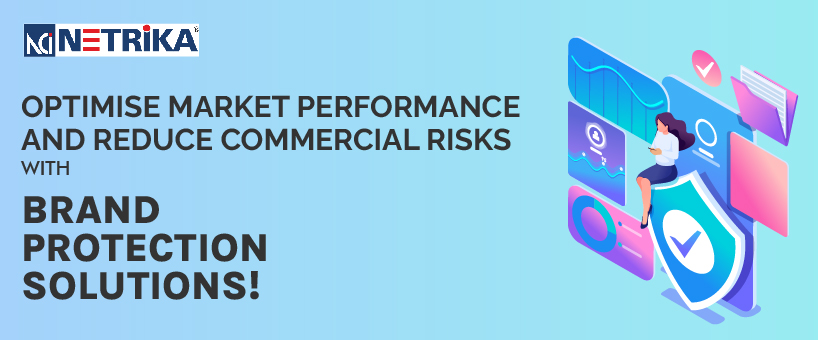 Your firm cannot fight the acts of counterfeiting with yesterday's weapons and technologies; you must be up to date with innovative measures to combat supply chain attacks and protect your brand. Traditional standards are no longer compatible with the advanced ways of counterfeiters and fraudsters coming over to ruin your brand's reputation.
Many of the world's best-known brands rely on brand protection services to attain robust and comprehensive solutions to keep products safe, authentic, and connected across the supply chain. In the current times, online and offline retailers, brand owners, and IP rights holders face counterfeits and work on to avail brand protection solutions. The brand owners, who care about their brands, must protect their brands from threats.
It would be best if you protect your brand from:
Fraud
Counterfeit product
Piracy
When it comes to protecting your brand, trust the firm that caters the online and offline brand protection solutions. Hire a brand protection company that protects, authenticates, and enhances your brand, services, and revenues with its proficient and skilful team. For end-to-end protection, a multifaceted team collects data from around the world to continuously monitor the brand online, identify unauthorised products, sellers, social profiles, and intellectual property use. Companies are vigilant against any brand abuse; however, the most pervasive and troublesome brands are counterfeiting.
To ensure online brand protection, a team monitors the online resources. It is one of the brand protection solutions to use artificial intelligence to collect data, using relevant keywords, logos, and files of the right owner. After monitoring the online resources, the cutting-edge technology finds any online counterfeits or infringements harmful to the brand.
A wide range of enforcement actions is used to eliminate the counterfeits, whether online or offline. Identify the infringers and take legal action against them to stop the counterfeited product. The brand must integrate the key pillars of brand protection: serialisation, traceability, authentication, and insight.
Online stores are easy to open and operate. Customers shopping online quickly fall for fake / counterfeit products due to their low prices and high-resolution genuine product photos. It is nearly impossible for the customers to identify counterfeit product sold on a website. Many people use the exact keywords or image search to find what they need on the web. Therefore, this allows the counterfeiters to win new buyers.
Customer education is the most important thing! Among technological brand protection solutions, educating the customers is also necessary. The users should be aware of the difference between the fake and the original.
Visualise in real-time. Monitor the implementation of your brand protection program. Verify the brand protection solutions and see how they are implemented. Collect all the results to verify and analyse the illicit products. Further, visualise product flows and inventories across your supply chain. Identify ageing inventories. Make queries per product to access traceability information of suspicious products.