Combating the battle against Counterfeit Medicines
October 13, 2020
Posted by:

Netrika

Category:

Brand Protection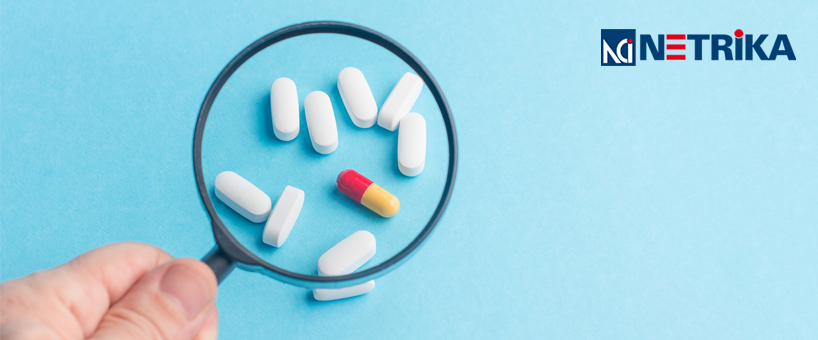 Counterfeit medicines have become a worldwide issue, with the Indian Pharmaceutical Industry securing the third position in terms of volume. According to World Health Organization (WHO), 35% of fake drugs sold all over the world come from India. Therefore, in its pursuit to gain continued public confidence in exported pharmaceuticals from India and battle against counterfeit medications, the Government of India is looking at a mechanism to get real-time visibility into all drugs produced and exported from the country.
A growing volume of fake medicines puts patients' health and safety at stake, while putting a detrimental effect on a product's reputation and on its sales at the same time. The reasons for this continuing practice are that the manufacturers are still struggling to regularly indistinct the counterfeits from the certified items and access data required to combat counterfeit medicine sales. The profits from the counterfeiting are so attractive and the punishments so light, that most of all criminals, including those trafficking illegal medicines, continue to devise new schemes to peddle their fake products. However, some of the drug manufacturers have developed solutions that provide good examples to regulate control over pharmaceutical counterfeits. Below are some of the noteworthy ones:
Conduct criminal enforcement actions by working with regulatory agencies, international agencies, and law enforcement agencies to identify and create deterrence against fakes.
The regulatory agencies, international agencies, and law enforcement agencies exists with a common objective to combat illegal pharmacies and counterfeiters. The regulatory agencies and the international agencies usually have programs in place with different requirements and levels of effectiveness to fight against the fakes. They also help both with developing effective strategies as well as resolving existing issues. The initiatives run by them from time to time help in a variety of ways: raising awareness for the need of increased law enforcement and stiffer penalties that go beyond copyright infringement, getting different parties to agree to a cross-national strategy, and allowing each country to keep up with new developments and adjust their practices accordingly. Furthermore, law enforcement agencies make execution of risk-based inspections & surveillance systems and enforcement efforts on manufacturers, importers, wholesalers, distributors, and sellers within the pharmaceutical supply chain possible.
Incorporate design elements into your packaging to make counterfeiting more difficult
Assigning a unique bar code and RFID tags to saleable unit of each prescription product simplifies product verification and makes tracking through the entire supply chain easily attainable. Holographs and other detection elements can add layers of security to these already established technologies. Some companies specialize in applying unique identifiers that are difficult to mimic for each unit of use. A great source of information regarding the use of bar coding in healthcare packaging is provided by the industry organization 'GS1', which holds webinars and conferences on subjects of interest to pharma and device companies, distributors, and other healthcare entities like hospitals and pharmacies.
Use methods to verify the product at different points in the supply chain to ensure the authenticity of the product
The potential for a compromised supply chain can occur at many points, and so there is a deliberate effort required to establish product identity, quality, and purity throughout. A few of the check points include when: i) raw materials such as APIs are received at your facility, ii) raw materials, after they are blended, iii) when the unit doses are filled (e.g., vials), iv) when the units are packed into shipping cartons & pallets, and v) when they are received at the distribution centres. However, the vulnerability does not stop here. There may be a subsequent step in the supply chain required when an electronic system cannot verify a product's identity, such as customs at the port of entry or any step that relies on hard-copy documentation for verification.
Use new technologies to eliminate all channels of counterfeit medical products
Blockchain is an area that large pharma companies and distributors have been exploring for a few years, although its potential has not yet been fully realized. The attractiveness of blockchain is its ability to maintain data integrity and ensure necessary verification at different points in the supply chain. In addition, smartphone applications have been developed for consumers in some markets to identify legitimate product. While this is not a substitute for a diligent regulatory body, it gives the consumer an additional tool to ensure that what they are ingesting is authentic.
The ongoing battle between real and fake medicines has been considered as a major healthcare crisis because of continued involvement of transnational clandestine operations in the highly lucrative counterfeit pharmaceutical market. The problems will only tend to multiply if the issue is not given proper attention and steps are not taken to overcome this epidemic.