CCPS – Certified Crime Prevention Specialist
June 8, 2020
Posted by:

Netrika

Category:

Training and Certification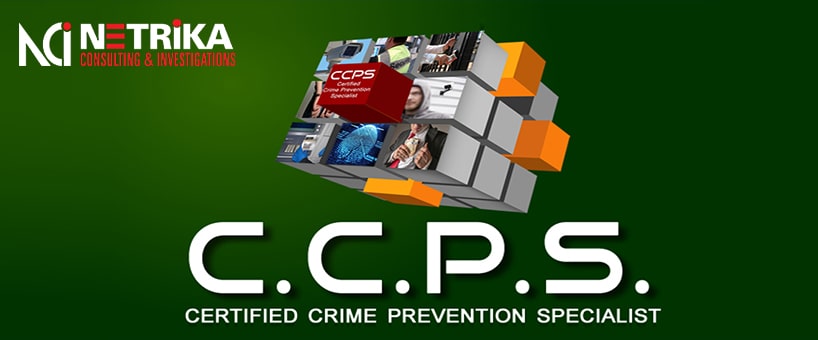 Generally, what comes in our mind? A Thief, an inquiry, a chase…. police, security and a case. Well that's just one face of it, just like we can be hurt mentally, physically, financially. Similar Is the case with Crime.
What is a Crime?
Simply…. an action or omission which constitutes an offence and is punishable by law (dictionary meaning)
Crime is not only in physical appearance or between humans or of tangible objects. Theft of anything or any transaction without being shared with the concerned or the rightful owner is a crime. This can be in your domestic front or in your corporate environment. Industry might be any from Banking to Education from Defense to any regular civil job. Crime is possible anywhere.

Can anybody in the company/ existing set up be trusted to prevent it?
NO. Its like confirming the damage.
How to prevent it/ assess the loss/ catch the source?
Only and only by a certified resource, a Certified Crime Prevention Specialist is the person who can assess the root cause and better still…. if included in the system from inception, can even prevent it completely as they have a proactive approach
How do we reach out to one?
You either contact the certification authority (in case if your presence is outside India), take a suggestion of such personnel and hire OR have a loyal and trustworthy resource from its own environment be trained and certified for Crime Prevention. The latter is a good option as the resource already holds a bias for the organization and will be a far better trusted option. However, hiring a trained professional from the authorized Body is also an extremely sensible approach to be included, as with this approach we do have a peace of mind that the resource offered is trusted by the trainers and is referred by the experts.
How to get trained for CCPS in India?
In India, we (Netrika Consulting India Pvt. Ltd.) is the only authorized entity or a body which can train and certify people in this Course. We are the trusted partners for CIISCM & Global E2C in India to impart flawless download of the required information, awareness, training and bring out the best of the talent and capabilities.
We are the only company authorized to:
Train and Certify for Crime Prevention Specialist
Provide an absolute trained expert with the required skill set for the company
Modules of the Program
What is crime prevention
Criminal investigations overview
Crime Prevention Through Environmental Design (CPTED)
Suspicious behavioral assessment – Profiling
Class exercise: Suspicious behavior assessment
Class exercise: an analysis of interview techniques and approaches
Document fraud
Class exercise: Recognition, Identification and Detection (RID)
Introduction to terrorism and political violence
Security audits & assessment
Best known practices & method
Person of Interest [POI] surveillance (Open Air Exe)
TEAM EXERCISE: external surveillance
Employee Crime Prevention
Perspectives on the use of internet and IT for criminal and security actors
Class exercise: online & social media
 
How to contact us and know the schedule?
We can be reached at: Toll free # 1800 121 300000, Board Number: 0124-2883000,
or mail us at info.soni@netrika.in