CACTS – Certified Anti-Terrorism Specialist
June 8, 2020
Posted by:

Netrika

Category:

Training and Certification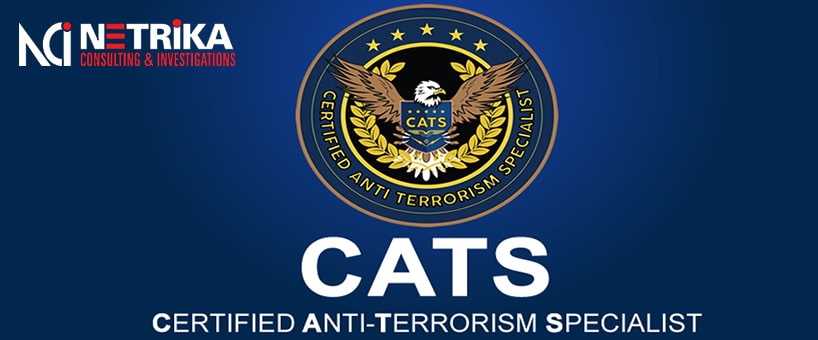 Certificate In Anti & Counter Terrorism Studies
The Certificate in Anti & Counter Terrorism Studies Program provides holistic understanding to the tenets of terrorism that encapsulate the imperatives of the Strategic-Operations-Tactical dimensions. The tripartite components and approach sets the Certificate in Anti & Counter Terrorism Studies program apart from the rest.
The Certificate in Anti & Counter Terrorism Studies Program engages two trainers given that: "No Man Is an Island". Each trainer is experienced and competent in his/her respective fields of specialisation, and that in evitably brings maximum benefits to the participants.
What is CACTS?
Certified Anti-Terrorism Specialist  What is the image that we perceive from the term? A mask covered face, some grenades, and a rifle!!! Well, sad enough but that's just one of the final phases just before the attack is ready to happen.
Terrorism can't be handled when it is right there…. ready to give results, that's when we see it but it needs to be killed much before when the masterminds like us are sitting between us in surroundings like ours and planning these attacks, the only difference is of the intention because their focus, grit, and determination is as it is very strong.
This is where this training and certification holds you better. The idea and intention of this certification is to produce a candidate/ personnel/ professional who can tap the crime in the initial stage. Here, the experts teach you or rather train you on:
Global Terrorism Threats and Trends
Recent Terrorist Attacks: Case Study
Explosives and Its Effects
Improvised Explosive Device
Fundamentals of Anti and Counter-Terrorism Framework
Methods of Attack: Tactics, Techniques, and Procedure
The Process of An Operational Plan: The Attack Cycle
Ex Silent Whisper: Attacking and Defending a Target – Vulnerability Assessment
Managing IED Incidents
The Use of Internet and IT for Criminal, Terrorist, and Security Purposes
Exercise Swift Valor: Reacting to IED Incidents
CATS attendees are trained at an unclassified level encompassing subjects in context to fraternities from both the Commercial and Law Enforcement sectors. It offers a wide structure to define similarities and differences between international terrorism and its strategic direction, its method of operating organizations in various areas and the application of tactics and techniques according to its skills and intentions. In brief, a synergistic concomitance of consistent variables in the field of terrorism is provided by this course in depth.
The course offers insights into ideology, finance, logistics, structure, network and cell connectivity within and outside the corresponding boundaries on the strategic and operational fronts. This knowledge will help analysts and security experts to understand patterns and trends and the changing danger in the next few years.
Tactics, Techniques, Procedures (TTP) will be centric subjects in the tactical sector. The main goal is to give participants sufficient understanding to prevent, recognize and handle danger through protective hardening measures in advance of expertise. For front-line respondents who are subjected to the risks on start, this skill is essential. Knowledge can also be used in the implementation of policies, assessments, and performance of penetration tests.
Explosive device (IEDs), IED techniques against a goal and the assessment of the target force and vulnerability are the key focus of the attack stages. Theoretical lessons are enhanced by debates and table-top exercises adapted to existing IED and terrorist situations.
At the end of this, we would like to confirm a strong point that Crime or Terrorism is always an anti-social attempt or a result. It's better to be proactive and curb it rather than being reactive and suffering the loss and recovering… Be trained to sense it and stop it.
Entry Requirements
21 years old and above; and
Diploma Holders; or an industry or government recognise akin certificate; or with at least 1 year of industry related working experience
Pass in English in Secondary or High School education or equivalent.
Graduation Requirements
Students will be assessed throughout the duration of the program. In order to be received the certificate, students must achieve a pass for their in-class assessments paper, and at least 75% of class attendance.
Benefits of Online Training
Online training displays information in well-crafted ways through attractive images, videos and real life examples which leads to better understanding of the learning content as participants will be able to retain and remember information better.
Convenient and cost effective as participants will be able to join the training anywhere and reduce travelling cost and time.
Live web conferencing with the trainer leads to a more active and engaging learning experience as participants will be able to have full interaction.
Personalizes the training experience where participants will be able to learn in an environment more conducive to their learning style and are able to concentrate and focus on the learning at hand.
How to contact us and know the schedule?
We can be reached at: Toll free # 1800 121 300000, Board Number: 0124-2883000,
or mail us at info.soni@netrika.in