Background checks a must to avoid later hassles and headaches
July 9, 2021
Posted by:

Netrika

Category:

Background Check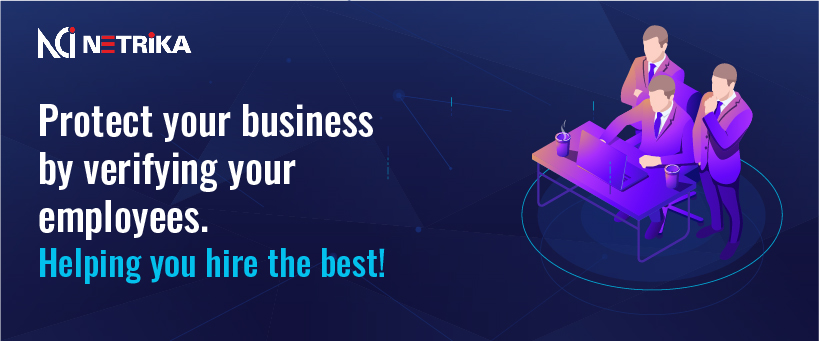 Background checks today are a must in all spheres of our lives – be it when signing a deal, getting a vendor onboard or when hiring an employee.
Especially in employee hiring a background check is an essential pre-employment screening phase to safeguard the organization against various potential threats. It is a comprehensive review of the commercial records, financial records and, most significantly, criminal records of an individual or any other entity. Companies assume most of the time that the applicants tell the truth about their resumes but it's always not the case.
In fact, today several instances have come to light of companies supplying candidates with false employment certificates. In several instances senior executives of well-known organizations have also been found to have submitted forged documents for educational qualifications. An employee is the face of a company. Hence, organizations need to be doubly sure about candidates before hiring them.
Background checks are not just for large organisations but even for small businesses that have much to lose from a bad hiring call. A wrong decision of hiring someone with a criminal past can put co-workers in danger and put a small organization out of business for good. If a new hire lies about their experience and qualifications, you may find them struggling to perform the duties you hired them to do, which can ultimately cost you more money in training. We at Netrika provide services not only to large firms but also have special packages for smaller businesses.
There are two categories of background verification – Pre – employment background verification and Post – employment background verification. A complete background check would include everything starting from checks for educational qualifications, past employment records, criminal records, identity etc.
Social media platforms today have become major sources and platforms of cross-checking candidates' personal information in a pre-employment background check in India. These platforms can help us understand the interests, tastes, affiliations, political views, and activities of a potential candidate and aid in our decision making. 
On an average, it takes close to 2 weeks and in some cases 3-4 weeks to get a full report on the prospective employee's background. This includes verifying past employment details, educational qualification, residential address and criminal records.
Hiring a new employee is a big decision that can cost your business a lot of money if it's not done correctly. To ensure you hire the best candidate possible, it is often a good idea to run a background check before making a final decision.
Netrika can be a good partner for you in this.  Know more