10 reasons to hire Netrika in 2020!
June 8, 2020
Posted by:

Netrika

Category:

Investigations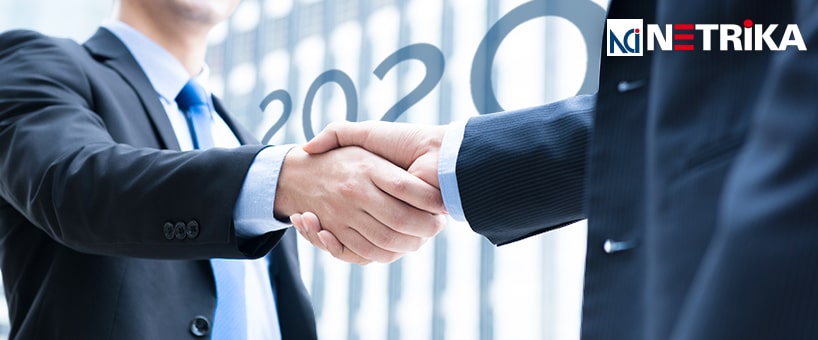 Security solutions markets have witnessed unprecedented growth in the last five years. The security solutions industry which had a market size of 75 billion USD in 2015 is expected to grow to 170 billion USD in 2020. 2019 has come to an end and 2020 is a year of hope, ambition, and excitement for a plethora of security service agencies across the globe. Due to increased crime rates, fraud, corruption, money laundering, terrorism, and embezzlement, there is an upwards trend in the security solutions industry and it is expected to continue like this for many more years to come.
Netrika derives its name from Sanskrit word Netra which means eyes is a symbol of great vision and acute observation which others miss to notice. Founders of Netrika not only promise security solutions as per needs and the utmost satisfaction of the clients but they are also committed to finding solutions for better understanding of the business, to assess the risk involved and at the same time secure it with all the present and potential threats.
If you are looking for security solutions to protect and empower your business then we have come up with 10 amazing reasons why you should hire Netrika in 2020.
1. The first and foremost reason to hire Netrika in 2020 is the team of experts that will be working for you to create holistic security solutions for you. Former police, army officials, forensic experts, private investigators, chartered accountants, and management experts derive the most legally viable and feasible solution for your problem in hand. These experts of various fields work together to gather information, do the investigation and do security management for your company. High confidentiality and integrity are uncompromised virtues of all the people working at Netrika.
2. One of the core services offered by Netrika is due diligence. It is an exclusive method of research and analysis a company does before merger, acquisition, investment or bank loan. Due diligence not only helps in identifying ongoing or potential issues with the organization but it also gives all necessary information to the investor so that he can avoid making a grave mistake and waste his time, money and resources. Due diligence services in India are getting quite popular and at Netrika we understand that it is kind of service that is capable of making or breaking the future of an organization. We have experienced team of experts conducting counter party due diligence, vendors due diligence, senior management due diligence and integrity due diligence.
3. There is no denial of the fact that each employee adds value to the business, but at the same time, he or she can pose a potential threat to the integrity and continuity of the business. Keeping this in mind background check of the person at the time or pre-employment screening is very important. Netrika is one of the best choices for background checks of both prospective employees and senior management of the company as they can conduct screening in more than 150 countries and territories and in more than 10 languages. Netrika is known to deliver authentic results in real-time for helping the companies in making the right employment decisions.
4. Another security service offered by Netrika is security and risk management. Industries such as aviation, healthcare, corporate and universities need to protect their property, employees and the students from any kind of damage as well as violence. Netrika has an amazing network with security managers of hundreds of such industries and it helps them in risk management by its security preparedness tools. These tools help in easy, fast and effective communication, timely sharing of data, photos and other information along with the implementation of procedures for a speedy solution of physical security-related issues.
5. We at Netrika understand that it takes years of hard work and commitment to build a brand name and earn the trust of the consumers. This is the reason we have a team of experts keeping a hawk-eye on all those people who are manufacturing similar fake products and selling them in the market. These copied products can cause severe damage to the image of the brand and Netrika makes sure that the brand name of its client is protected well. Brand protection team at Netrika works together with its clients to design effective strategies of brand protection and prevent piracy.
6. It will be interesting to note that in a way Netrika is extended eyes and ears of global companies. It can see and hear what others seldom see or hear or may miss out on seeing or hearing. Based on its acute observation of business at the global level, steps were taken by global companies, their moves and strategies, Netrika gives effective business inputs to its clients.
7. Netrika can boast to handle some of the most complex fraud risk management cases in India. It has a team of globally acclaimed experts known for their deep detection and prevention capabilities. It also has vast experience of preparing intensive corporate intelligence report for a diverse range of industries. We can also claim to be leading investigators of bribery cases and FCPA compliance.
8. We at Netrika can be a great help to our clients in protecting themselves from economic crimes, financial loss as well as damage to their reputation. Apart from that, we can come quite handy in setting up a standard in the market as per regulatory compliance of various regulatory bodies. Either you wish to manage a situation of crisis or protect your data from any kind of security breach, Netrika is a one-stop-shop for all.
9. With an increasing number of smartphones, the internet of things, digitization, an increase in the speed of internet and government spending more on IT infrastructure there is an increased threat to the integrity and security of data present on the internet. There is a steep rise in cyber-crimes and an urgent need to combat the situation with effective security solutions. This is the reason why the Indian security market is growing at a rapid pace of 8.2 percent since the year 2015. The trend is expected to be the same until 2025. If you are facing any such cyber threat for your company then Netrika is the door to knock at. Deep compliance, security expertise, integrated technological support, flexible management, and sophisticated threat management capabilities are some of its USP. Netrika ensures a sustainable and elevated security posture for your company.
10. Netrika can also be a great help for your organization in dealing with IP litigations such as patent litigations and patent infringement. Patent litigation is a complicated process and in the fast-moving business world, most companies do not have time to fight long legal battles and hold their operations for it. Netrika has a comprehensive patent litigation support service to help its client desired outcome.
Conclusion
Netrika has an efficient team of multidisciplinary people to identify and handle all the potential threats to the business. We make sure to finish the project in hand in the most cost-effective and time-bound manner. Our seamless strategies to handle some of the most complex projects ensure the sustainability of the results obtained. If you are looking for effective security solutions in 2020 then Netrika is definitely the security solution for you.